Blog
North End Legend
There were a few things you could count on when you walked in the door of Canadian Motorcycle at 981 Main St. Joe Sawtus, the store's only owner since it opened in 1970, always wore his trademark white hat. If you were a man, he'd call you a "young stud" and if you were female, you were a "lady." If you needed a part he would search high and low to find it. If you just wanted to talk motorcycles or racing, he was your guy too. Either way, you wouldn't leave his shop before you heard Sawtus enthusiastically say "right on" at least a few times. In the last year or so, due to his failing health, the number of hours Sawtus opened his shop dwindled. A couple of months ago the doors quietly closed for good.
"He's an icon," Astrid Lichti said Tuesday morning from her florist store at 994 Main St. She should know. Lichti is the owner of Cosmopolitan Florists, where she and her staff are celebrating their 50th anniversary this month. They opened their doors just a couple years before Sawtus took over the former Erhardt Tire location, adjacent to Cosmopolitan.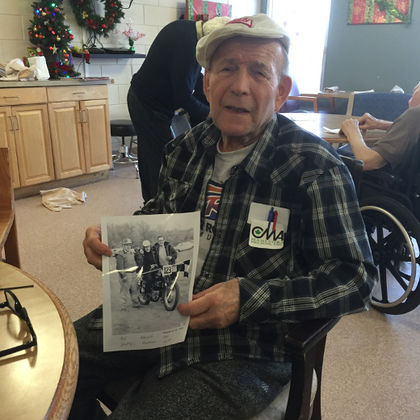 They have been more than business neighbours as Lichti has been a motorcycle enthusiast since she was a teenager.
Sawtus, now in his 80s, was legendary for being old school and his shop was a maze of parts and accessories.
"He had an incredible memory for things," Lichti said. "He had so many bits, parts and boxes. He would go into that warehouse and say 'give me just a second. I think I have what you need.' "And he would come back with exactly what you needed — it just might take him 20 minutes."
Sawtus was presented with the mayor's business improvement zone award at a ceremony in 2014. Lichti, a fellow North End Business Improvement Zone member, sat down with Sawtus to write a brief biography that was presented that evening.
Sawtus told Lichti he was the youngest of five children and his family moved from Poplarfield to Winnipeg during the Depression. When his father passed away in 1949 his oldest brother Bill became the head of the family when he was only 18. Bill, who died in the early 1990s, was the one who introduced Sawtus to motorcycles when he was 12. It wasn't long before Sawtus was racing bikes and turning heads as an amateur wrestler. He had several careers after graduating from high school, from the printing trade to a stint as a corrections officer at Stony Mountain Penitentiary.
Sawtus never married or had kids. Running his shop and being part of the North End community meant the world to him and that's why he ran Canadian Motorcycle for as long as possible, Lichti said. His loyal customers came from all over the province to buy motorcycle, ATV and snowmobile helmets and gloves or other parts and accessories, she said.
It's uncertain what will become of the building at 981 Main St., but Lichti and North End BIZ association president Rob McDonald would both like to see it continue to be a motorcycle parts store.
"It's something that made our business zone unique," Lichti said. "It was the same thing when Kelekis (Restaurant) closed down (after 81 years in 2013). We call them community anchor businesses as opposed to those huge anchors like Ikea.
"These are little institutions that are known far and wide. They make us different and they keep the character of the neighbourhood."
Right on.
---