Blog
Mayor Presents BIZ Awards
The Mayor's award recipient from the North End BIZ is Parviz Lotfi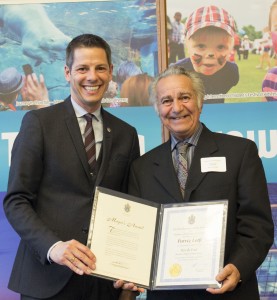 Parviz Lotfi immigrated to Canada from Iran 40 years ago. In Winnipeg he met his Wife Bibi, a stylist, and together they opened Joy Beauty Salon. For the next 33 years, they worked together, serving the local and greater Winnipeg community. Concurrently, in true North End tradition, for 32 years Parviz worked for Canadian Pacific Railway.
As a community builder, Parviz has always been one to offer his assistance, to the BIZ board, to business neighbours, and to community members. For the last decade, Parviz has volunteered on the North End BIZ Board as Treasurer, Secretary and Ex-Officio. He's almost always the first to arrive at a meeting and never leaves without asking if anyone needs a ride and helping to clean up. He's acted as a facilitator at numerous BIZ consultations, and never fails to attend greater community meetings, representing the BIZ. Parviz has a jovial nature, quirky sense of humour, and unique perspective on issues that have contributed immensely to the board over the last decade.
Due to Bibi's failing health, and increasing responsibilities on Parviz as her primary caregiver, they had to close the salon last year, but he continues to attend the BIZ board meetings and selflessly volunteer.
The North End Biz is proud and honoured to nominate Parviz for this prestigious award.
Congratulations Parviz!
---