Blog
"Food Matters", Manitoba. Upcoming Public Consultations.
Last year Winnipeg's Standing Policy Committee on Property and Development, Heritage and Downtown Development approved a recommendation that "the Winnipeg Public Service engage key stakeholders to investigate and provide recommendations related to the formation, role and governance structure of a Winnipeg Food Policy Council, with a mandate of providing continued advice on agricultural and food related policy."  Both consultation will take place at the Carol Shields Auditorium, Millennium Library, 251 Donald at Graham. Please refer to the attached flyer for more information.
Option 1:  Monday, May 30th, 6:30 – 8:30 p.m.
Option 2:  Thursday, June 2nd, 2:00 – 4:00 p.m.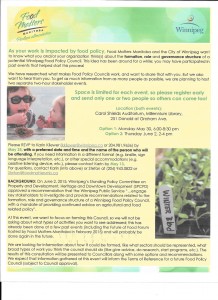 ---